Michael and Pride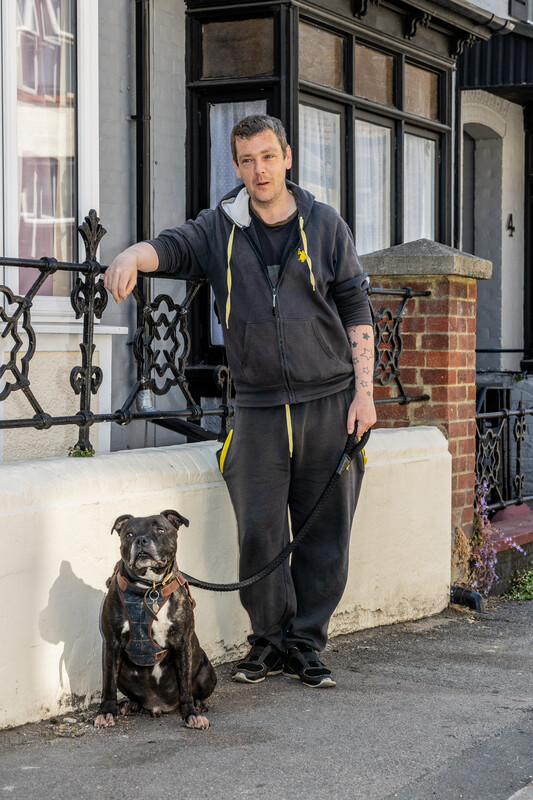 File information
File size
Options

Original JPG File

3161 × 4741 pixels (14.99 MP)

26.8 cm × 40.1 cm @ 300 PPI

8.9 MB
Download

Low resolution print

1333 × 2000 pixels (2.67 MP)

11.3 cm × 16.9 cm @ 300 PPI

901 KB
Download

Screen

533 × 800 pixels (0.43 MP)

4.5 cm × 6.8 cm @ 300 PPI

162 KB
Download

Preview

Screen Preview

162 KB
View
Contributed by
Stacey Kelly
Area of Homelessness
Causes of homelessness
Keywords
Homelessness, dog ownership
Credit
Centre for Homelessness Impact
Approved for use until
17 June 25
Expiration date
17 June 25
Camera make / model
Canon EOS R6
Caption
Michael, 33, temporary accommodation, Chatham
Pride, Staffordshire Bull Terrier, 7 years
Michael became homeless eight or so years ago when his landlord kicked him out. He got his dog Pride, a Staffy, to support his mental health. "Ever since I've had him, my life has been totally different. I only got a dog to support my mental health, and now I can't live without him".